Our Work
Guide for Families and People with Serious Illness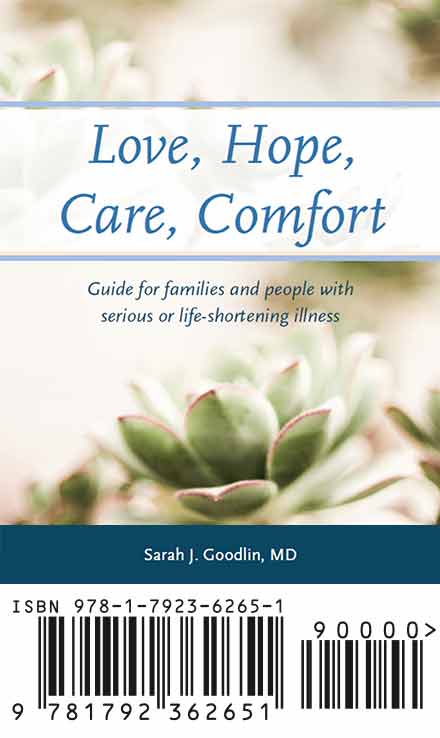 This booklet provides information to guide people and families through care for serious or life-shortening illnesses, while people and families live with the illness and as they approach the end of life.
In this booklet we discuss serious illness and how to cope, how to talk with and work with your doctors and nurses, and plan your care. We also talk about issues many people and families confront as they approach the end of life.
Copies of the booklet can be downloaded for individual use here.
Palliative Care- Heart Failure Education and Research Trials (PC-HEART)
This collaborative includes clinicians, educators, and researchers in heart failure and palliative care from about 60 sites.
We have accomplished several things. (View pc-heart.org)
We identified a research agenda to build knowledge about Palliative and Supportive Care in Heart failure View Link
We created a tool to assess nurses' knowledge and competency in heart failure care View Link
We outlined an approach to communication and decision making with heart failure patients and their families View Link
We evaluated hospice care for heart failure patients, and referral of hospitalized patients to hospiceArch Intern Med -- Characteristics of Patients Hospitalized With Acute Decompensated Heart Failure Who Are Referred for Hospice Care, October 8, 2007, Hauptman et al. 167 (18): 1990
We identified pain and other symptoms in people living with advanced heart failure View Link
We created education for hospice nurses to address the gaps in their knowledge about heart failure
We are creating tools to help with decision making about heart failure devices
We summarized what is known about palliative care in heart failure View Link

PC-HEART's goals are to:
Build knowledge about palliative and supportive care in advanced heart failure through hypothesis-based collaborative research including:

Therapeutic approaches to manage symptoms and to improve quality of life,
Identification of common patient and family needs and approaches to meet these needs,
Methods and strategies for communication with patients and families about heart failure and decision-making about goals of care and available treatments to meet those goals,
Understanding prognosis, frailty and the course of heart failure with or without specific interventions

Create replicable models of care and education and test those widely through segments of the health care delivery system